It's that time of year again…

It's the Holiday Season!

You know what that means….


You better hope you've already gotten your cameras out and snapped some pretty great photos for your Christmas cards!

If you haven't finished them yet you still have a tiny amount of time before Christmas. And if you can't do them in the next few days that's okay. They have plenty Happy Holidays and Happy New Year's cards to chose from. I have to say I am a little partial to Shutterfly. They have such a large variety of cards. You can use the less expense photo paper or go all out and use cardstock.

They have a 100% satisfaction guarantee. You can have them resent if there are errors, get card credits, or send them back for a full refund if you aren't 100% happy with them. FABULOUS!!!

They have a 30% off sale as we speak! Plus free shipping on orders over $50.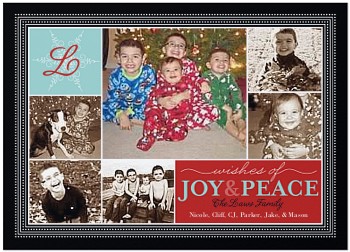 Joyful Memories Christmas Card